Model No:

CPCOPA530 Copa Express

Height:

27 3/8″

Width:

16″

Depth:

30 3/4″

Weight :

174 lbs

Celcook by Pratica
Spec Sheets:
English French
Manuals:
English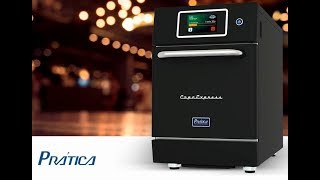 Contact Us
Download Price List
Description
The Copa Express speed oven is engineered for cooking fresh, chilled, or frozen food, resulting in excellent taste and perfect browning and crisping. The impinged air convection technology combined with microwave enables cooking food up to ten times faster than traditional processes.
The Copa Express oven uses a combination of heating for high-speed forced-air convection and microwave energy to heat food more quickly than the conventional methods.
The most compact speed oven with the largest capacity on the market. Its compact structure saves space in the workplace. The Copa Express is the only one in the category that accepts GN'S 1/2 size hotel pans (12 3/4″x10 3/8″).
Key Features
Upto 1024 recipes, with 8 steps each, divided by 16 groups
USB port to upload/download recipes
Easy to clean
Adjustable temperature from 86F (3OC) to 530F (276C)
User friendly Interface
Cool to the touch exterior
Independently controlled of air speed, microwave and infrared
Constructed from AISI430 (exterior) and AISI304 (interior)
Stainless Steel
Ventless system with easy removable catalytic filter
Allows the use of metal pans
Manual mode for on-the-fly cooking
Warranty – 1 year parts and labor